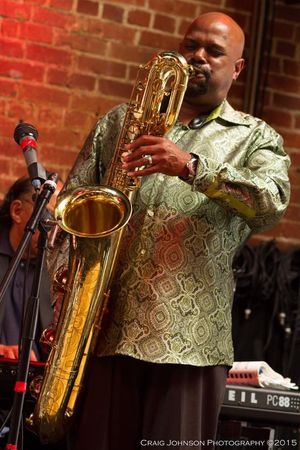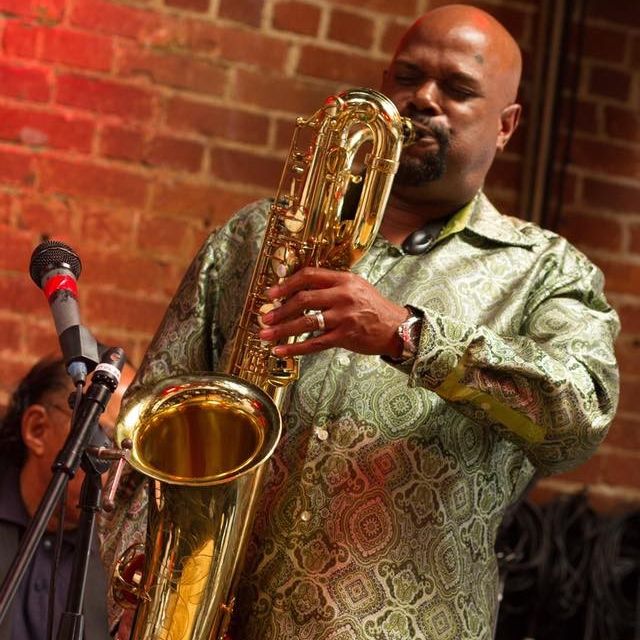 DALE FIELDER BIO
Dale Fielder is an American jazz saxophonist, composer and bandleader. He is a multi-instrumentalist who plays all four saxophones: soprano, alto, tenor and baritone with equal authority. He is known for his original compositions and choice of performing rare, obscure jazz classics as well as his varied group concepts and variety of presentations. Fielder has recorded over 20 CDs as a leader for various labels since he first appeared on the national jazz scene in 1993 with his first CD Free Flow.
He grew up in Midland, Pennsylvania, a suburb of Pittsburgh where he studied oboe, bassoon and tuba in the school system and clarinet, saxophone, composition and arranging privately with noted Pittsburgh area tenor saxophonist Phillip Celli. Fielder is also a product of the University of Pittsburgh Jazz Studies Program, where he studied as an ethnomusicology major under Dr. Nathan Davis. Fielder's debut jazz performance was as a member of the Joe Harris Quartet, former drummer of the Charlie Parker Quintet and Dizzy Gillespie Orchestra. After relocating to NYC, he was a recipient of a National Endowment for the Arts grant in 1984, studying with trumpeter/composer Frank Gordon and completed his first large work, "The Aquarian "for alto saxophone and chamber orchestra. While in NYC, he also performed with a host of current jazz stars such as pianist/composer Geri Allen and trombonist Robin Eubanks among many others.
After eight years in NYC, Fielder moved to Los Angeles and studied with alto legend, Charles McPherson and embarked on the challenging path of a bandleader, establishing the Dale Fielder Quartet, the DFQ, with pianist Harold Land, Jr. in 1988. By 1995, the DFQ's personnel had settled into its current configuration with ex-Mingus pianist Jane Getz, bassist Bill Markus, and drummer Thomas White; a unit that has remained intact for 25 years as of 2020. In 1996, Fielder and his DFQ recorded a national top-ten CD, "DEAR SIR: TRIBUTE TO WAYNE SHORTER" on his Clarion Jazz label, a label Fielder founded in 1993. The CD found national attention for Fielder and his quartet. In 1997, he received his first commission and wrote the extended eleven-movement jazz suite, "OCEAN OF LOVE AND MERCY" with an all-star Nonet featuring jazz greats George Bohanon and the late Daniel Jackson and others with his quartet. The CD was recorded in performance and subsequently released by Cadence Jazz Records. From 1997 through 2000, Fielder performed throughout Europe and Asia with his Quartet. The band was also selected by the national cable channel, BET, as their 1999 Jazz Discovery winner. Fielder has taped several video appearances and shows for BET.
In 2003, Fielder released his most important and ambitious work, his hour-long third extended jazz suite, "SUITE: CLARITY" to international critical acclaim. His 2005 CD, "BARITONE SUNRIDE" also received international attention bringing Fielder recognition as one of the new baritone saxophonists in jazz. His July 2007 release "DFQ~PLAYS THE MUSIC OF PEPPER ADAMS", continued to document his now-classic quartet with Jane Getz. Fielder's other projects include recording and performances with an avant-garde quartet, "Luminous Monolith", his fourth extended work, "LIGHT AND SHADOW" commissioned by and performed at Lenoir-Rhyne College of Fine Arts in North Carolina with the DFQ and his on-going exploration of the music of Pepper Adams, this time with performances with baritone great Gary Smulyan. Fielder also performed and acted in the play by visionary playwright, E.L. James, "NOBODY WALKS LIKE MY DADDY." winning Fielder a nomination for 'Best Supporting Male Actor" by the NAACP Theater Awards in 2012 performing on soprano sax as the character "Horn". In 2013, Fielder performed at various venues in southern California with his new "Tribute Quintet " with a project focusing on the music of the Donald Byrd/Pepper Adams Quintet of 1958-1961. The music from this project has been recorded and released as the CD "EACH TIME I THINK OF YOU" on his Clarion Jazz label in October of 2012.
Fielder's current recording projects include: "RESILIENCE!" DFQ~Dale Fielder Quartet 20th Anniversary 2-Disc CD released August 2016. In December 2017 two Bandcamp Online CDs were released: "SENSUOUS UNIVERSE" from 2006 and "SAXOPHONE STANDARDS - Volume 1" from 2013. In January 2018, Fielder released a 35-year-old project featuring his late friend and jazz legend, Ms. Geri Allen; "SCENE FROM A DREAM - THE DALE FIELDER/GERI ALLEN SESSIONS NYC 1986". In May 2019, Fielder's Tribute Quintet released their second CD, the jazz/gospel/spiritual CD and YouTube video project, "AT THE THRESHOLD" for the Rajjahz label. And in June 2019, the DFQ~Dale Fielder Quartet returned with the outstanding CD: "CONSENSUS" which was considered for a Grammy nomination. And in November 2019, Fielder released his 3rd Bandcamp Online CD "ENTROPY," and his 4th Online CD: "PRECIPICE" in 2022.
His current CD, "NOCTURNE SERENITY - [Saxophone Standards Vol 2]," was released in August 2023. As with all of his albums, all are currently available at Clarion Jazz, iTunes/Apple Music, Amazon, Spotify, and most music platforms.