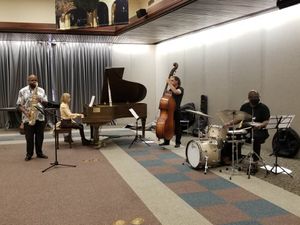 "

Dale Fielder has created an approach to the baritone sax that is entirely his own. His tone is rich and vibrant, his phrasing is sharp and fluid and his solos are well-constructed yet endlessly inventive. Fielder's chops are unequaled. I honestly don't believe that there is a better proponent of the instrument alive and playing today. If you've never been a bari fan, the explosive creativity and enormous passion displayed on his recordings may very well change your mind. "
— Roman St. James / Jazz Review.com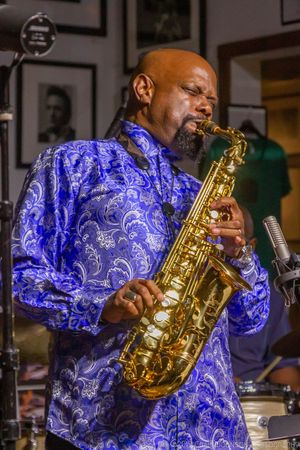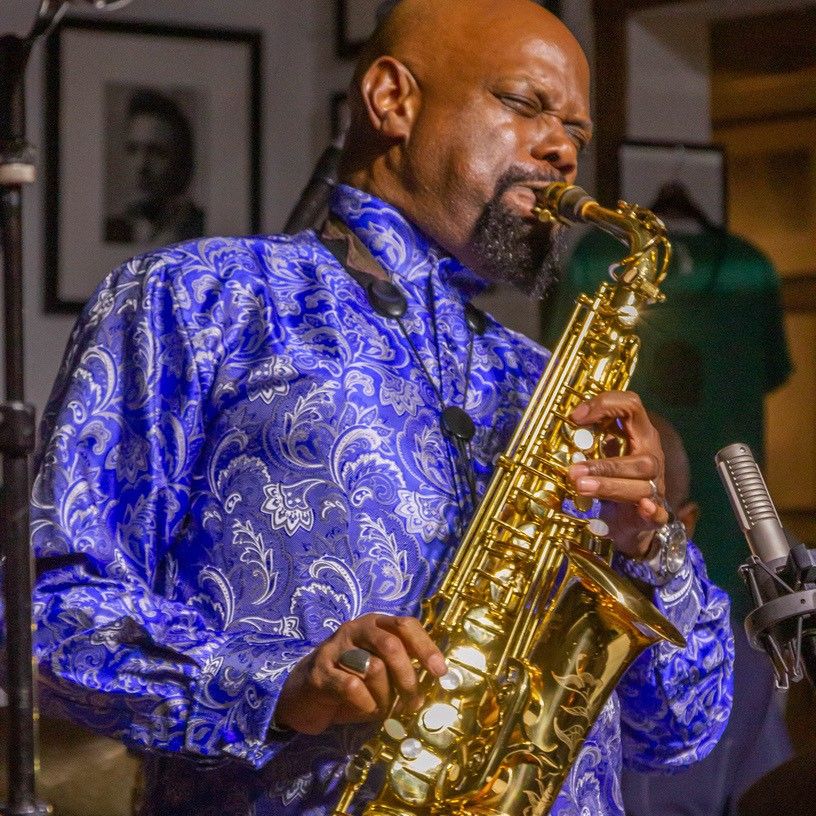 Dale Fielder is a hard-working improviser who knows his way around his horns. Alto, tenor, soprano and baritone sax are his axes of choice --- all played with the same high degree of emotional outpouring. One of Fielder's most endearing qualities is his inherent rawness. He can play very smoothly if he chooses, but seldom goes that way. Close listening prompts an understanding of just how complete a package this L.A. sax man tends to be. Whether exploring an oblique 5/4 original such as "Troubadour Dreams" or the standard chestnut "Diane", Fielder's lines always manage fruition, but his style demands that they stray out in left field, just missing the foul pole. Hey, its Fielder's choice, but it's impossible not to appreciate what he's doing: shoot from the hip. Some of the finest saxophonists in jazz history --- namely Jackie McLean and Eric Dolphy have held this same command. The jazz world could use a few more free-blowing free agents like Fielder.
-James Rozzi / Atlanta Creative Loafer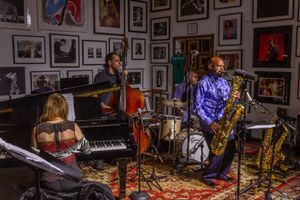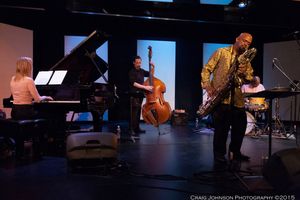 DFQ~Dale Fielder Quartet
1995 - Present
The Dale Fielder Quartet was formed in 1988 but settled into it's current edition when final member, the legendary ex-Charles Mingus pianist, Jane Getz joined the band for a jazz festival on New Years Day 1995.  Along with Getz, original members bassist Bill Markus and drummer Thomas White have been on board since 1993.  Night after night, the DFQ have gone quietly about their business; almost workman-like, -just making the gig, yet as serious as your life in focusing only on the music.  Seeing this focus and reverence for the music, while having a great time doing it is what their audiences like most about the band. For over twenty-eight years, the band continues to not merely survive, but actually thrive.  It is certainly remarkable in how the band continues to grow, evolve their singular way and have created a body of distinctive jazz music.  The unique characteristics of the band is Fielder's leadership as a bandleader as well as his commitment and determination in his continued pursuit of the baritone sax as a front-line solo instrument; -not a usual role for the deep-toned horn.  Also of note are Fielder's immense abilities and evolution as a composer.  The beauty and strength of the band can be seen in how they play and interpret Fielder's compositions.  As a result, the band has their own sound and can immediately set a mood and create a vibe.  Also each individual member is showcased; everyone gets to shine!  This is a band in the fullest sense of the word and not a collection of dis-interested individuals just phoning it in.  The benefit of their longtime alliance is obvious. The telepathic-like interaction they maintain is one of the factors that allows this group to rise a notch above in a field that abounds in great groups.
-Reid Schultz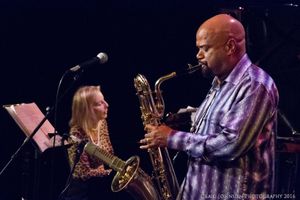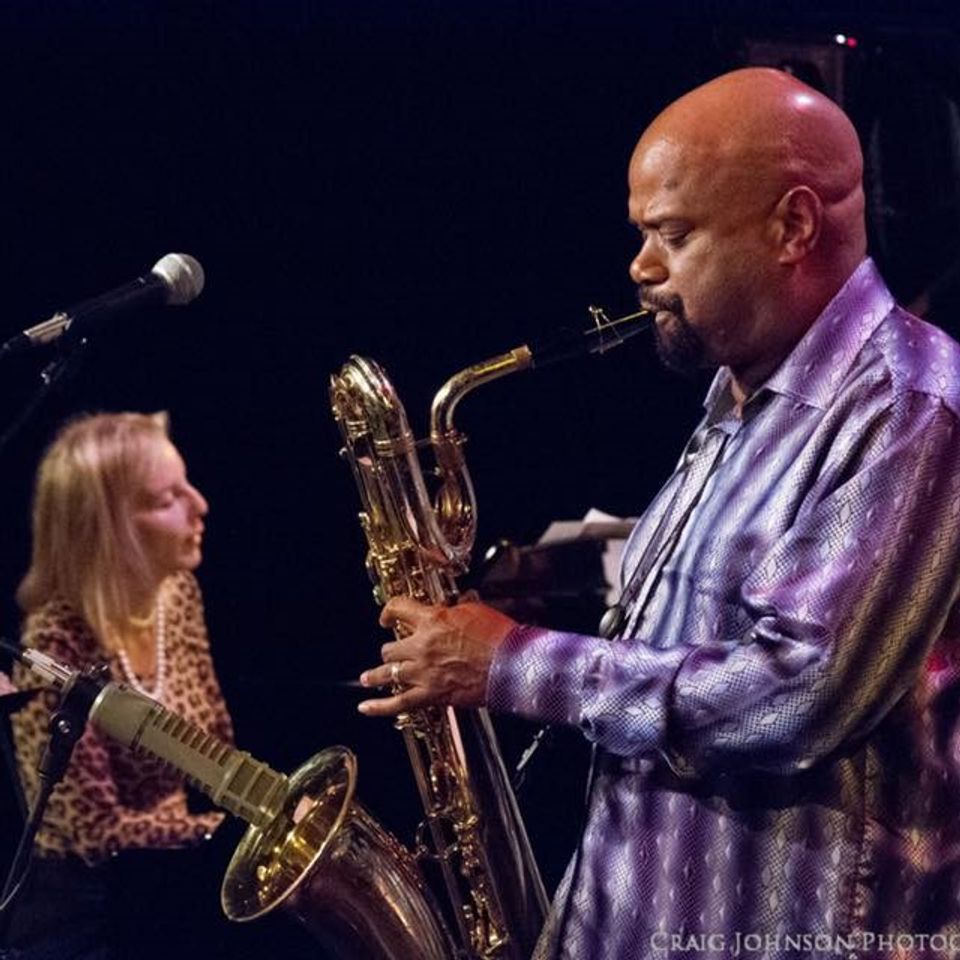 Dale Fielder
On 28 year partnership with Jane Getz
"Jane coming into the quartet was the big factor for us both. We compliment each other very well: --a perfect foil for each other. I attribute this to the fact that we both feel the same way about music, and jazz in particular. Her primary influence is Bud Powell, mine is Charles Parker. We both aren't afraid of being traditionalists in the sense that in the new millennium this seems to be a bad word. Our influences and sources of inspiration are pretty direct. When you hear Jane play bop or a standard, it sounds completely authentic, relevant yet up to date and of the present time. Not standing still in time sounding dated, you see? Even though we are coming from sources in the 1940's and '50s, we have still incorporated everything that has happened since in the music. You can hear McCoy Tyner and Tommy Flanagan in Jane's playing, Coltrane, Wayne (Shorter) and Joe (Henderson) in mine. There's a certain magic that happens when Jane and I play together and we've been smart enough to explore this and let it develop for all these years. It's still fun for us after all these years. Not to leave Bill Markus and Thomas White out, they feel the same way. We all are not afraid of the word jazz and relish each opportunity to perform it together. The passion and dedication each member of this band has is beyond any words I can say except the word "love". We really love what we are doing together. It doesn't happen quite in the same way when we play with anyone else. We naturally create a very ego-less and supportive musical environment for each other every time we play. And because of this, there is a tremendous amount of love, respect and esteem we hold for each other that has been enjoyed for twenty-eight years and hopefully many more to come."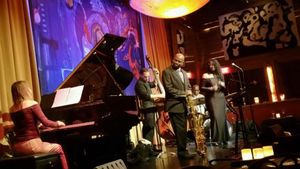 Press Photos